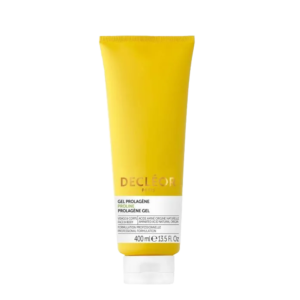 FACE & BODY
FIRMING PROLINE PROLAGENE GEL (400ML)
Brand:

DECLÉOR

Availability:

INSTOCK

Delivery Date:

3-5 days
$148.00
FACE & BODY GEL FOR SLACK SKIN A multi-tasking gel to rescue damaged skin by toning, firming, repairing and revitalising.
In stock
OVERVIEW
A complete body treatment to smooth skin imperfections - both natural and accidental - and an iconic hero in the Decléor range. Prolagene Gel supplies the deep tissue with the active ingredients necessary for the reconstruction of its natural collagen. Prolagene Gel has a visibly firming effect that builds up with regular use to smooth skin imperfections. Acting on the whole of the skin's structure it helps speed up cell renewal, to improve the look of stretch marks and scarring, in addition to loose skin. Prolagene Gel contains an amino acid called Proline L., which is similar to plant collagen and helps re-build the skin's supporting fibres. The formulation also includes Osmanthus Absolute for its potent healing action. Toning as well as firming the gel leaves an invisible supportive and protective film making it perfect to use during and after weight loss, and particularly during pregnancy, for smoother and firmer skin. This exclusive Decléor formula:
Helps revitalise the support structure of the skin.
Helps accelerate the skin's renewal process.
Helps diminish unsightly marks. Applied on the affected parts of the body, this gel leaves a supportive and protective film on the skin. Day after day, your skin renews itself with increased tone and firmness.
Prolagene Gel is not just an emergency skin "fix"; it also works in perfect harmony with the skin to tone and firm the entire body.
Suitable for all skin types.