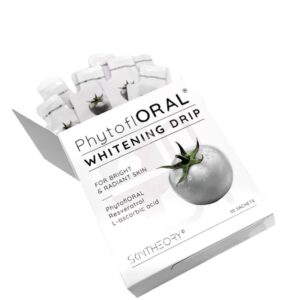 WHITENING DRIP
PhytoflORAL WHITENING DRIP
Brand:

PHYTOFLORAL

Availability:

OUT OF STOCK

Delivery Date:

3-5 days
$148.00
BENEFITS Feed your skin with 2 sachets daily to enhance biomolecules, and reduce collagen degradation while increasing the suppleness and smoothness of the skin. Flawless glowing skin can be yours with the PhytoflORAL Whitening Drip.
OVERVIEW
01.
Contains high concentrated colorless Carotenoids i.e. Phytoene and Phytofluene extracted from white "beauty" tomatoes. Studies have shown that the accumulation of such dietary carotenoids can facilitate the repair and regeneration of protein fibers after damage by UV light. It can also stimulate collagen and elastin in the skin to increase density, elasticity, and firmness resulting in younger-looking skin.
02.
Red Wine Extract and Resveratrol. Red Wine is rich in Polyphenols – specifically Resveratrol – a natural anti-oxidant that can beautify the skin. Resveratrol also has anti-inflammatory effects which result in a reduction of skin redness and also improve the overall skin texture.
03.
Camu Camu Extract with high content of Vitamin C, 40x More Vitamin C Than Oranges. Camu Camu is a sour berry native to the Amazon forest and is regarded as a "super-food" due to its high content of Vitamin C and other nutrients. Camu Camu Extract is a potent antioxidant that can neutralize free radicals and it also aids in your skin's natural rejuvenation process—which helps your body repair damaged skin cells.